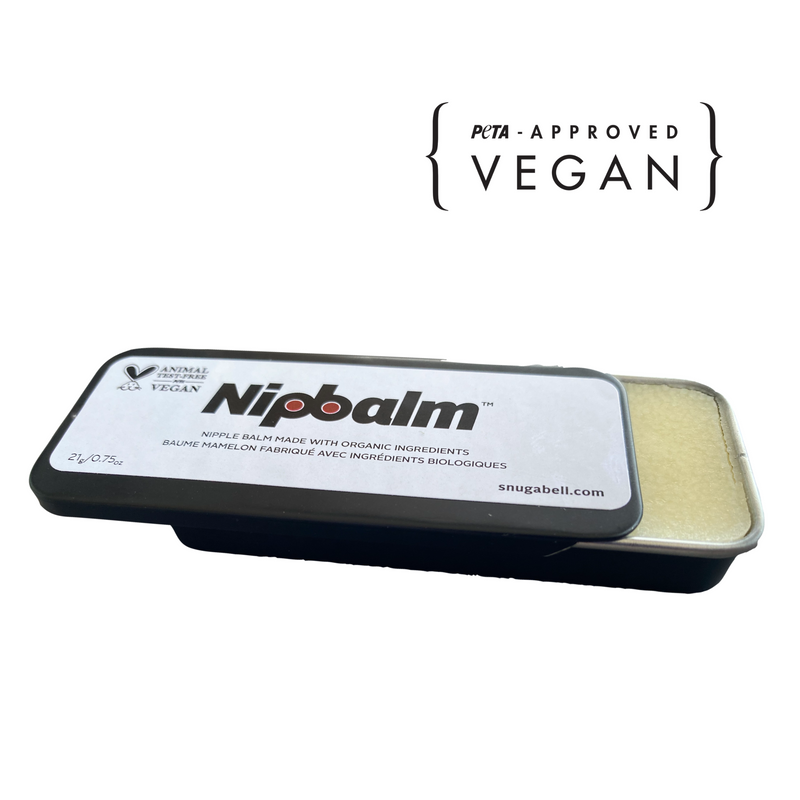 Nipbalm™ Vegan Nipple Balm
Regular price
$11.00
Save $-11.00
/
---
Winner of the 2021 babyMaternity Magazine Product of the Year Award in the Nursing Aids category!
Vegan and cruelty-free
Lanolin-free
Made with organic ingredients
Baby-friendly; doesn't need to be washed off before feeding
Quick-absorbing
Made without synthetic fragrances or essential oils
Never tested on animals
Nipbalm is useful beyond the breastfeeding / pumping years. Use Nipbalm on nipples, lips, cheeks, cuticles, elbows, during diaper changes, on rough spots, for tattoo healing, and more!
What's in Nipbalm?
Organic Refined Shea Butter: Shea butter is renowned for its skin moisturizing properties and can help soothe burns, sores, scars, dermatitis, psoriasis, dandruff, and stretch marks. Shea butter contains vitamins A and E and has demonstrated both antimicrobial and anti-inflammatory properties.
Organic Cocoa Butter: Forms a protective layer which holds in moisture while softening and lubricating the skin.
Calendula-infused sunflower oil: Sunflower oil acts as an emulsifier, surfactant, thickening agent, and emollient. Very light and great for dry, damaged, and sensitive skin. Calendula petals have been known to have anti-inflammatory and wound-healing properties.
Chickweed-infused castor oil: Castor oil is a cold-pressed oil that acts as a humectant, helping draw moisture to the skin and providing a protective barrier to protect against moisture loss. Chickweed has healing properties and contains vitamins A, B1, B2, B12, C, and D.
Candelilla Wax: Candelilla wax is a plant-based emollient that is rich in nutrients and helps prevent the skin from losing moisture. 
Carnauba Wax: Carnauba wax is a natural "vegetable" wax used for its emollient and softening properties. 
Vitamin E: 100% pure and natural blend of tocopherols which helps slow down oil-based products' natural oxidation process and extend shelf life.
Why doesn't Snugabell use Lanolin?
Lanolin is a popular ingredient in mainstream nipple products, used as an emollient to lock in moisture and prevent water loss.  Lanolin is a greasy yellow substance made from secretions (sebum) from the skin glands of sheep to condition their wool. It is a natural, animal-derived product harvested from shorn wool. Livestock owners routinely treat sheep with pesticides and lanolin is known to have pesticide residue. Contamination levels vary and aren't generally high enough to be immediately dangerous; however, with so many other options to prevent transepidermal water loss, Snugabell has chosen to play it safe and avoid lanolin.
How to Use Nipbalm:
Apply after each feeding or as often as needed. Use the heat of your fingertips to soften a small amount and apply to nipples sparingly. A little bit goes a long way! There's no need to wash it off before breastfeeding or pumping. Apply to nipples before pumping to reduce friction and help make pumping more comfortable. Snugabell Nipbalm can be used on nipples, lips, cheeks, cuticles, elbows, rough spots, tattoos, and more. Discontinue use if irritation occurs. 
21g / .75oz
Made with love in Canada